About Us
dr.CAFE is a leading coffee company that provides unmatched standards in high quality products, knowledgeable and friendly services and outstanding Ultimate Place Experience in order to suit each individual guest's lifestyle and to make a personal experience memorable.
At dr.CAFE, we are always excited to share with everyone the success story of our people, the achievements, over a best cup of coffee. Whenever we look back on our milestones, the memories are still clear in our mind that it seemed like only yesterday. The passion for coffee, determination to excel, and living by our values have been embedded in our hearts since the beginning…and it will always remain the same.
Everyday has been a challenging adventure at dr.CAFE. We cultivate the spirit of a legendary coffee tradition while reinventing a masterpiece to personalize original ideas to blend with our philosophy, core values and the commitment to excel in delivering the experience of the best coffee in the world.
Read More
Our Philosophy and Values
Lead the coffee and cafe industry by discovering the new, reinventing the old, while preserving the coffee culture and its traditions, guaranteeing our guests around the globe the ultimate coffee experience by upholding our commitment to maintain the very highest standards in quality, service, cleanliness and trustworthy business practices.
Our Goals
d etermined to offer the highest quality Arabica coffee beans, by monitoring every stage of its processing to its eventual offer to our Guests.
r esolute in our commitment to uphold strict quality assurance controls and conditions to all our products before offering them to our Guests.
C reate an Ultimate Place landmark, more comfortable than home and more respectable than the office, for our Team Members and Guests.
A dding great value to peoples' lives in each community we are based in by supporting and developing social and environmental programs.
F acilitate our well researched techniques to continually develop the efficiency of our facilities and productivity of our Team Members.
E nsuring reasonable profitability to be able to support our mission, to expand our experience to our Guests everywhere around the globe.
Our Values
We live by the rule Excellence in Everything We Do. This is our way.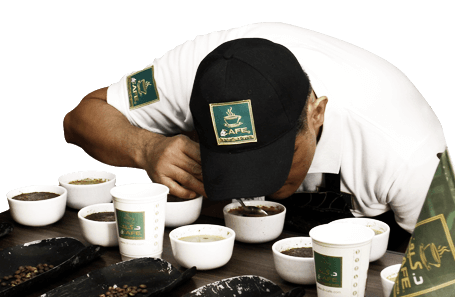 We make every day a great day for everyone by sharing our coffee knowledge and experience with each other and with our Guests.

We Know What to Do
We make sure We Know What to Do, and then Do What We Know in the best way possible every time, everywhere.

Professionalism
We believe in Respect for Everyone, Honesty in Everything We Do, and Professionalism in Thoughts, Feelings, and Actions.

Service with a Smile
We love our Guests, our Products, our Work, and our Lives as Members of the Team. This love is evidenced by our "Service with a Smile".

Triple H
We use Triple H which integrates the combined unique powers of our "Head, Heart, and Hand" as responsible and caring people in everything we do for our Guests, our Team Members, our Company, and the Community.